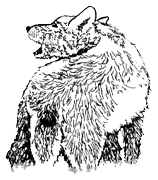 My Seneca medicine (spiritual) name is Genyoi or Blue Jay. Messenger of Peace. Signaler of New Ways. Friend to many Diversities. Midwife to those who seek to walk the Rainbow Path of Peace. A Bridge connecting the new balanced Harmony emerging in each of us, the Traditional Ways, and the Wise Woman Ways. I was initiated into the Seneca Wolf Clan Teaching Lodge by the Clan Grandmother Twylah Nitsch.
In the Seneca Wolf Clan Teaching Lodge, my Mission Walk is to bring Traditional Teachings into modern life. To share the Seneca Way of walking the Path of Peace which "unites the Powers of Spirit – through Faith, Love, Intuition, Will, Creativity, Magnetism, and Healing."
Through experiencing these traditional teachings you can become sensitive to the Great Mystery by "entering into the silence."
When we enter this Earthwalk, we are endowed with seven personal gifts, five latent talents, and a boundary skill appropriate for our mission in life.
These personal attributes set into motion a way of living that gives identity to our natural gift.Thirteen colors symbolize these gifts of birth and latent talents that help to identify the direction for personal growth.
This ancient Seneca philosophy establishes one's Earth connection for personal growth and self-worthiness.
A Wisdom Wheel gives credibility to one's Earthwalk while satisfying the need for personal growth and peace of mind.
These gifts do not change because they produce our stability and focus upon inner truth.
Eternal love supports personal growth and is the source that nourishes our mission in life.
–Twylah Nitsch., Elder of the Seneca Wolf Clan Teaching Lodge
Seneca Wolf Clan Medicine Wheel Chart Readings
Guiding you to live your Vision, the Seneca Tradition helps you answer the four important Questions:
Who am I?

Where do I come from?

Why am I here?

What does the future have in store for me?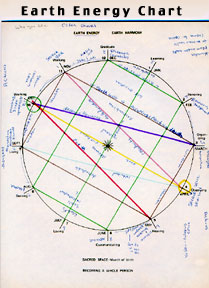 To better answer these Questions we seek to discover and appreciate our Sacred Space, our Sacred Point of View, our Alternate Physical Space, our Earth Walk, and our Mission Walk through the ancient Seneca Teachings carried in traditional Seneca Medicine Wheel Charts.
The Earth Energy Chart –  Reveals the gifts with which you are born and provides clues to your life lessons and your journey toward becoming a whole person.

Animal Allies – Discover your Nine Animal Teachers and see your reflection in their unique energy and insight. Forge a special relationship with each animal guide and hear their wisdom speak to you. This can be a sublime illumination into who you are at the core of your being and a revelation of the support that surrounds us at all times.
Each individual Seneca Medicine Wheel Chart reading takes place over two one-hour private sessions.
In the first session, we will talk about your situation, what is happening for you, and how you want to use the Chart you will be working with. I will take the pertinent information needed for drawing the Chart.
Then I will draw your Medicine Wheel Chart and send it to you with some supporting documentation.
Then we will schedule an integration and incorporation session in which I will assist you in the interpretation and application of the revelations contained in your chart.
Tuition – The fee for each Seneca Medicine Wheel Chart private reading is $215.
Registration – To get started, read the Terms of Service and then click the registration button to pay securely with your credit card or Pay Pal.
Or you may contact me for questions, to make your payment, and schedule your sessions.
By making your payment you are committing to a Seneca Medicine Wheel Session with MaryAnn Copson. Once your payment has been received within a few days you will be contacted by email to schedule your appointment. We will determine which Seneca Medicine Wheel Chart to use for your reading prior to your appointment.
All payments are non-refundable. If you decide not to proceed you will be given a credit that can be used for any Evenstar in-house service. Evenstar credit expires in two years from the date of cancellation or withdrawal.
Please remember that this is not a psychic reading but rather the practice of using ancient traditional Native American symbolism to open the doors to your own inner wisdom and knowledge.