Winter Solstice is a big deal in our family. 
We all gather at our Big House and aren't scattered at other family gatherings. We spend a month jiggling schedules around so that the date works for everyone. In 2014, we are 24 in our nuclear family – 12 adults and 12 grandchildren
Members who will be celebrating Christmas/Yule with other families bring their Secret Santa gifts and it is always a toss up if they will open them while gathered together this night or wait for Christmas day.
Two dear Fairy Children Granddaughters have their birthdays in Dec. -one one the 15th and one on the 18th and sometimes we celebrate their birthdays all together at Solstice with birthday cakes and presents amongst the holiday cakes, cookies, and presents.
Every one over 10 years old brings a dish to share (all our kids are all great! Cooks) and we have a divine Winter Solstice buffet while we dive into the fun activities. The Buffet has a great variety of treats and hearty dishes from baked apples and cherries with chocolate coconut whip cream to tasty and warmth filling chicken tortillas soup, grilled cheese and ham with asparagus sandwiches, sweet potato fries – and more.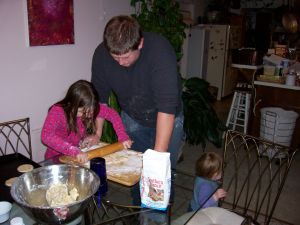 We have our standard Winter Solstice activities of making home made cookies. I have the best Family Circle magazine 1990s recipes for ice box cookies but over the years all the kids have found their own favorite Christmas cookie recipes. Everyone brings their own dough and decorations and we use my big stock of Christmas cookie cutters. All the 12 grandchildren cut out cookies, decorate them, bake them, put icing on them – and mostly eat as many of they can while their parents are chatting with siblings and in-laws.
We always have crafts for adults and kids. Past Winter Solstices we have all made our own herbal creams, Christmas gel candles, bake in the oven clay Medicine Animals and a plethora of other Solstice celebrations. Last year we made Fairy Houses – one of our best times.
This year in 2014 were are making Winter Snow Globes in a jar and Power Wands. 
These Snow Globes are enchanting and everyone likes to see the glitter snow falling peacefully on some magical scene. And who would have thought that you could make your own – I think the kids will be amazed.
We had to table the making of the Dream Pillows in favor of the Snow Globes – but there is always next year to look forward to.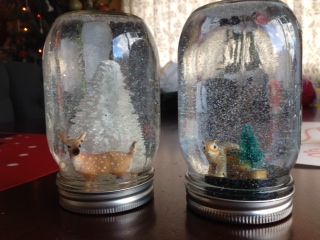 When our kids were younger we all made Power Wands and when two of my grandchildren, Isabelle and Levie, were visiting me and made their Way into my Craft room they spotted my Wands wanting to know what they were … and how come they didn't have something like that.
"Grandma, I want to be magic too. Why can't you give me one of those?" "I can't give you one, Isabelle and Levie, you have to make your own. After all, it is your own Magic."
So all the children are bringing their own Crystal Points that they picked out and we are all making Power Wands at the special request of Isabelle and Levie. This will add to the percolating of the unfolding of the magic within each of them.
I'll post pictures of the finished projects.
As the evening grows to a close we all gather for one of our oldest Solstice Traditions – decorating  the Tree.
On most Solstices we have a Tree that we have gathered from our land. One that is kind of being squished out by bigger trees or growing kind of lopsided in a crowed grove. At times we have been known to cut down 2-3 bedraggled trees and tie them together into one respectably shaped Tree.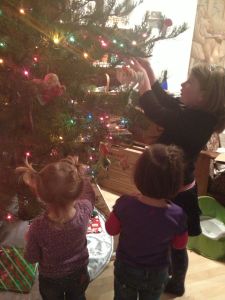 Everyone from the youngest- Henry at 7 months- to the oldest – me at 65 years – bedazzle the Tree. The lights are turned down. Christmas carols play in the back ground. We each find our favorites amongst the 4 boxes of Christmas decorations spanning the years from our eldest first ornament some 40 years ago to the newest one for 2014. The Tree seems to soak up all this beauty and merriment and shine is back on us.
It's at this point that I always seem to travel back to our first real family Winter Solstice celebration. 
Up until 1996 our family never did that much with Winter Solstice. Back in my younger years when I was a vortex for community gatherings we did often have a "homebirthers, homeschoolers, midwifery, spiritual seekers" Winter Solstice ritual now and then.
But when we moved from New Jersey to Virginia in 1994 and discovered that living out in the rural country meant that people were quite far apart from each other!! we sort of lost our community connections.
When we (David and I, our 5 kids, various assorted others, our cats and one huge truck load – one of those really big U-Haul ones- of plants and herbs) moved to rural Virginia David continued to work in NJ. He kept an apartment in Montclair, NJ and commuted daily to Manhattan.
He worked as a chromist in a Lithography studio and would schedule work for 2 weeks at a time and then come home to our new home in Virginia for 2 weeks.
With the nature of his work he always had to finish the job before he could leave. Even though he would schedule his job to be at home for important family events like birthdays and holidays his travels back and forth were dependent upon how the job went and when it got finished.
Ever since I started having kids, Christmas was an important part of our family traditions. 
I began decorating right after Thanksgiving and it was a strict rule that the Tree would be decorated by Dec. 10th. When we made our big move to Virginia our first born was about 20 years old with each of our five kids about 2 years apart – so the Christmas traditions were firmly in place by then.
In 1996 it so happened that David wasn't going to be able to be home by Dec. 10th. I had to make a decision- to decorate the Tree without him – or wait. Either way I would be breaking a time honored and cherished tradition. I called a Family Meeting and we decided to wait. Our Tree set only with colored lights on it as we waited day by day.
"When is Dad, going to get home? Soon." 
That year on Winter Solstice, he knew he would be leaving work late and then still had to pack up to make the 8 hour drive home in cold wintery weather. He was going to be tired and we were anxious and eager to "get going" with Christmas and get that Tree decorated. I could see discord gathering so decided to make a celebration of the whole thing.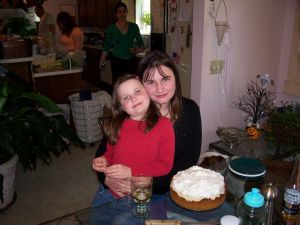 Our kids were great cooks even then,  so we brainstormed for yummy foods that we could eat while decorating the Tree. Everyone made something and we set up a buffet table in the living room where the Tree without ornaments stood. We set it up fancy with pretty serving plates and utensils, great food and drink and a festive table.
All the ornaments were out of storage and arranged for easy picking, lights were dimmed and candles and sparkling Christmas light illuminated the living room. Comfortable seating was arranged in a circle around the Tree with Christmas carols playing in the background and everyone was in good spirits happily anticpating the merriment.
When David arrived everything flowed.

 
We all enjoyed the Solstice dinner taking breaks in the flurry of decorating the Tree.
There were 20 years of collected family ornaments to prompt "Oh, remember this ornament." Remember when we made those plastic stained glass ornaments. Or sewed those holiday unicorns. Memories of Christmas pasts that bound us together as a strong family.
We sat in the circle seating reminiscing and looking forward to the fun flurry of opening packages and joking around with each other. Once the festivities had slowed down I remembered that it was Winter Solstice and wouldn't it be nice to just tie all of this up with a little exchange of unexpected receiving of gifts. It is always good to open up to more receiving.
But I didn't have any gifts for everyone until I thought of the copper bracelets (it was back in the days when I wanted to make sure that everyone got their much needed trace mineral allowance of copper- but little did I know then that our well water had an ample supply of copper) I had bought everyone for Christmas.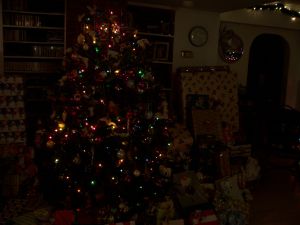 I moved like a Ninja and snuck out of the living room and retrieved all the already packed copper bracelets. Brining them down stairs to everyone I felt like a Christmas Elf bestowing a surprise. For some reason everyone really liked those copper bracelet maybe it was just a little bit of extra icing on a beautiful cake of fun times – and some still have those bracelets 20 years later.
We finished out the night telling stories of remembered Christmases and other happy times.
It was a starlight evening. A time that shifted our family traditions and even though we lost one custom, being able to be flexible and hold deeply to our heart connection enabled us to morph the little loss into a wonderful new tradition of our shared Winter Solstice celebration that we have celebrated together every year since 1996.
I wish you blessed family traditions and holiday celebrations

.
Make your times together special in a way that adds cheer and happiness in shared activities of love and fun. And every once in awhile, as the Matriarch that you are, step back out of the scene and marvel at the creation that has flowed from you in unbeknown and mysterious ways. Realize that this is Sacred Work you are doing.

If you would like to move more deeply into creating and developing family thriving and shared togetherness consider working with me in Cultivate Thriving Life Coaching. Click here to find out how to get your complimentary Cultivate Thriving consultation. 
Woman's Altar – programs and mentoring with me to weave the threads of your Sacred and Mundane lives together into one whole tapestry of a considered life.