Soul Medicine for Women Psycho-Spiritual Counseling, Mentoring, and Coaching grounds you in the experience of your natural state of wellness, well-being, and love. It awakens that sense of yourself as the creative force of your life and you come again to sense and know the essence of your own beautiful heart and soul. You come to know your self as the multi-sensory, multi-dimensional being you are.
The consciousness of thriving and the evolution of her conscious awareness is inherent to women and arises from a woman's natural ways of living and being. It is a shared presence of love and pure being that unveils itself through the mysteries of a woman's deep inner self. When you live embraced by your true nature, you thrive in every way.
As we work together in our sessions,  you liberate  your conscious awareness – meeting again your own self  and  landing in your true guidance – the Longings of your Heart's and Soul's Desires and your Reawakened Dreams.
Soul Medicine for Women Psycho-Spiritual Counseling, Mentoring, and Coaching reintroduces you to your multi-dimensional, multi-sensory self,  reconnects you with your hopes and dreams and longings of your heart and soul, and sparks the fire of your creative force. It is a journey to Freedom, Peace, and Lightness of Spirit. It is the Journey of Sovereignty- the path to true contribution.
You embark on a journey of self exploration and discovery. Along the way we will clearly define your current reality and where you are now in your life.
We cultivate your imperative for integration and cohesiveness and you free your self from the bondage of ways of being and living that you have out grown.
We work ever deeper to cultivate the essence of that which you long for so that you come to stand centered and focused in the beauty of your own self. You and your life open to thriving and the evolution of your consciousness and you come to recognize your self again as the creative force in your life.
In our work together,  you take the journey from daydreaming about your wishes, to unfolding your dreams into reality as you reconnect with the courage to live the life you want.
Tell me, what is it you plan to do with your one wild and precious life?
–Mary Oliver
Come Create the Life You
Long For

 We will talk for 30 minutes on the phone about what you want, and your hopes and dreams for your life. We'll see how we can work together to help you bring your own Soul Medicine into the world.
No obligation to continue.
Crafting Your Soul Medicine Life
A Woman's ways spark a new luminosity in life. Ways that are familiar to women and so much a part of themselves that women often do not recognized the power in their creative force. Women's creative force gives birth to new life. It is not just about doing things and making things happen – although that is fun too.
Thriving and flourishing as a woman, means living wholeheartedly, without hesitation, recognizing your great power, wisdom, and knowing – even as you give your self fully from your heart – again and again- to the ever evolving requests of the life you are held within. The heart of the matter is about being able to hold the tension of the beauty and fulfillment of your longings as their manifestations are birthed.
We take an integral approach to the crafting of your life and the unfolding of your self and explore the quality and satisfaction in all the areas of your life and their connections with each other.
In our work, we have access to many different tools and approaches. Each of these threads can be picked up and used to weave your life into a whole luxurious tapestry – your life, the life you long for. This is what will set you free.
The path to a Your life is simple:
Listen to your heart. It knows things, because it came from the Soul of the World, and it will one day return there. ~Paulo Coelho
Special Focus Work ~  As we work together bringing forth your Thriving life we can customize the Journey along the way. It is possible to bring a Special Focus into play as we go along. There are several that you might find attractive.
Sacred Feminine Spiritual Mentoring ~
There will come a time in your life where embracing and understanding your spiritual relationship in this world will be your top priority. You will feel deep stirrings in the heart of your soul and the soul of your heart to advance in the direction of the Mysteries held within you. These will be mysterious realms for you. Land and ways that you have managed to avoid connecting with not because they are dangerous but because the time wasn't right, the journey didn't fit into your life at the moment, or it just seemed too overwhelming a land to venture into.
True spiritual exploration is often not a straight and easy path. It requires a certain amount of discipline, courage, good humor, grace, and a good guide. Braving the unexplored spiritual terrain on your own can leave you confused and traveling in circles wearing a rut in the path. When you decide to strike out to explore your spiritual unknown – your own spiritual mysteries – a Spiritual Mentor can assist you as you unfold your new language, adjust to your new perceptions, encounter unexpected fears and heights of expressions. Without some kind of spiritual guidance it can be difficult to hold the tension of the new and different realities that you are entering into. Everything changes and a spiritual mentor acts as a midwife for you as you leave one world behind and enter into your new realities, your keener perceptions and your expanded sensory self.
Soul Medicine for Women is Spiritual Mentoring for reclaiming your self as the Sacred Woman you are. As you awaken the Sacred Feminine within your self, you are prompted to take the steps required to shift your personal development from self-awareness to spiritual awareness of all consciousness held within  your self.  Thus, your spiritual awareness will become more basic than your self-awareness –  your awareness of self becomes spiritual. This will be an evolutionary shift for you as a woman unfolding your creative force. You will then become you self.
Sensory, Energy, and Intuitive Arts Mentoring ~

Ancient wisdom and knowledge, future possibilities and the wisdom and ways of the planet and the stars is not lost nor inaccessible for it is still held within your multiple ways of knowing. You are a multi-sensory being who has naturally and inherently held within you all the common senses that are shared with every form of consciousness- living and seemingly non-living. You are a multi-dimensional being whose multiple aspects of your self weave in and out of multiple dimensions.
You possess at least 54 named senses that allow you to have direct sensory perception ( knowing ) with the whole of the web of life on this planet and beyond. What we commonly think of as Intuition is only one of these many sensory ways of knowing that continually flow through, to, and from you through the whole Web of Life. Each of these multiple named and unnamed senses act as universal translators with every other aspect of consciousness on this planet and beyond – including all natural forces and all natural elements. Our multiple senses are experienced as different forms of attraction, loves, and intelligences that you share with all.  These multiple senses are our common means of communication and connection.
Each form of consciousness presents itself to you as a dimensional aspect of your self- We really ARE all one. None is separated from any. Through this sensory network of our Natural sensory processing system we have access to all energy and information from the beginning of time and into the future. We are never alone, never isolated and never separated. As such we are the many of all time and space.
We are now in this time and space where we are re-discovering this ancient and future natural and inherent way of knowing. This Ancient way of knowing is our birthright and our potential.
Women especially are exquisitely attuned to these many sensory intelligences and natural ways of knowing that come to women as full bodied sensory intuition.  But so often this natural ability has been wrangled and its development interfered with. But you can return to the fullness of who you naturally are – and this is our path.
The Woman's Altar and Sacred Earth Path Medicine for Women ~ 
Here we join Divine Feminine Shamanic Journeys, Women's Rites of  Passage and mentoring to weave the threads of your Sacred and Mundane lives together into one whole tapestry of a considered life. We incorporate Divination, Women's Shamanic Journey work – and perhaps a Medicine Walk or Seasonal Initiation to support you. We craft your personal Sacred Pathway to your authentic self.
Sacred Wellness ~ Health and Wellness Coaching and Mentoring

Health, Wellness and Well-being are not just matters of illness and drugs. We are multi-dimensional beings within multiple layers of consciousness. We are not simply physical beings. What goes on in our health is an out flowing of all of our relationships in the whole Web of Life.  Moving our self toward wellness is a sacred act of embracing the dynamics of our journey into the mystical realms from which we arise. We take this journey of spirit joined with the physical support of Alternative and Functional Medicine. Making Lifestyle and Health and Wellness changes can be challenaging and confusing but one of the most sacred acts we can do for our selves – and the world- is to understand our biology and physiology and learn to live in a way that nurtures and sustains our deep health and wellness.
Customizing your Soul Medicine for Women Psycho-Spiritual Counseling, Mentoring, and Coaching  with any of the Special Focus Work can begin at any time in our mentoring and counseling work- right away when we start or as we go along. If you have interest in including any of these Special Focus Work we can discuss the details.
How Soul Medicine Psycho-Spiritual Counseling, Mentoring, and Coaching Works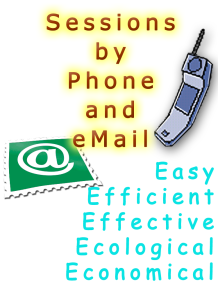 Twice a month, we will meet by phone for an hour. In between our sessions you work with the programs, projects and explorations and insights and realizations we have unfolded during our session. Throughout our time working together you have continuous email access to me for questions, going deeper, sharing your accomplishments, mapping out new strategies, etc.
During your Soul Medicine Journey, I'll urge you to have fun and keep an open mind – and allow for at least a 2% possibility that the world doesn't operate the way you might think it does. You will be evolving and unfolding your own creative force as you are creating the results you want. Come ready to explore your self and your world, make changes, and learn to live with what you want.
All Soul Medicine for Women Psycho-Spiritual Counseling, Mentoring, and Coaching work is done long distance by phone and email.
Our minimum  time together is 8 one hour sessions done over a period of 4 months. Usually we work with 2 sessions a month but sometimes you may need to miss a session. If you notify me ahead of time – a day's notice is good – you will have the opportunity to make up a missed session. However, all 8 sessions need to be completed within 5 months unless special arrangements have been made. If you consistently miss or reschedule our meetings some sessions might be forfeited.
The Basic Fee is $860 for 4 months payable when you sign up. Or you can make automatic monthly payments of $215 a month for 4 months.
All payments are non-refundable. If you decide not to proceed any automatic payments due will be processed as agreed and you will be given a credit that can be used for some Evenstar in-house service. Evenstar credit expires in two years from the date of cancellation or withdrawal.
Except for Sacred Wellness, the base fee for all Soul Medicine for Women Special Focus Work is $215 a month payable monthly or in a lump sum.  This base fee covers 2 hours of session work a month. The Sacred Wellness base fee is $340 a month which covers 2  hours of session work a month plus, 1 Treatment Plan a month. Some Special Focus Work might include assessments, testing, programs, therapies, and products – which would be additional costs.
Almost all Soul Medicine for Women Special Focus Work requires more then 8 sessions. We begin the Special Focus work with 8 one hour sessions done over a period of 4 months and build a strong foundation for you in the special focus. We bring our attention to manifesting several key results you are seeking. We clarify you situation and the changes required, discover how well we work together, and if this is the path for you. After our initial 4 months working together, we look to get a sense if we want to continue our Special Focus work diving deeper and over a longer period of time.
To get started we will meet on the phone – in a no fee 30 minute session – and explore what it is that you are seeking, get a sense if we will work together well and if Soul Medicine for Women Psycho-Spiritual Counseling, Mentoring, and Coaching is a good fit for you.
If you are interested in moving forward click the Request an Interview button below.
And you may also contact me for questions, etc.
Begin Your Soul Medicine Adventure
If you are ready to begin your Soul Medicine for Women Psycho-Spiritual Counseling, Mentoring, and Coaching request an Interview – no fee for this meeting.
When you reunite with who you really are and what you really want – when you heed and embrace that energy – your life unfolds at its own pace. When harmony is reached within you, events begin and end on time for the benefit of all.
–MaryAnn Copson
 Blog Posts About Soul Medicine for Women:
You are invited to join Rick Hanson in his new online program, Neurodharma, which will guide you through a 7-step path of uncovering the deep, true nature that is in every one of us […]
Dear Friends,
There has been much hullabaloo in my inbox from many companies as they assure me they are now in compliance with the new European Union General Data Protection Regulation (GDPR). The GDPR is now […]